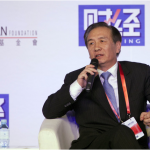 Harvard-educated Liu He was appointed as a vice chairman of the National Development and Reform Commission, the nation's top economic planning agency.
Analysts mark the appointment as a sign that President Xi Jinping might be planning to implement market-driven policy changes. Cheng Li, a China scholar at the Brookings Institution, described Liu as an advocate for "financial liberalization." It's a sign that China may be modernizing to a consumer-led economy.
Liu played an important role in the 2008 financial crisis and joined China's Central Committee in November.  At the NDRC, Liu will be a key player in determining the course of economic action the nation pursues.
Source: Bloomberg