I ran into an article today that discussed particulate matter and pollution being over 50 times the WHO recommendations through regions of China this week.  While we may have discussed some of this previously, it is astounding that pollution levels could reach this high.  The smog can be so thick, buildings become completely invisible and in some cases signs appear to be floating in mid air.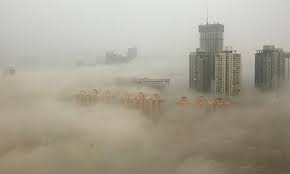 While China has been working to decrease these numbers, pollution will continue to rise until it is estimated to peak around 2030.  It can also be noted that there is no switch to just shut down smog.  It will last and linger for decades after production and carbon emissions slow.
This is a major issue in China that will continue to magnify as death rates continue to rise and rise in many of these urban areas.  Now that growth is starting to slow throughout the nation, maybe the use of coal and other harmful power sources will be replaced with more efficient, safer practices.  The rapid emergence of China as a production powerhouse led to the absurd amount of carbon emissions, but hopefully those will begin to table soon.  For the safety of the world as well as the safety of China's people actions need to be taken soon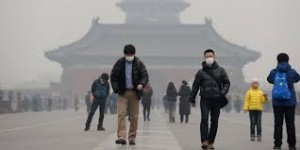 .