Last week, China began the process of phasing out its 36 year-old One-Child Policy in the face of slowing population growth and a massive elderly demographic. The policy, enacted in 1979, was designed to be a temporary measure to curb a surging Chinese population, for fear of a looming resource crisis brought on by overpopulation. The policy is famous worldwide, but its reach was much narrower than many realized. Officials from the National Population and Family Planning Commission reported in 2011 that only 35.9% of Chinese faced strict one-child regulations; as we have seen in our readings this rule clearly did not apply to the rural families Peter Hessler encountered in his travels. Some were allowed a second child if the first was a girl, and ethnic minorities were also exempt from the policy. Though they represent only 9% of the population, that is still approximately 122 million people, not counting many others who either ignored the regulations or were not scrutinized by the government for having multiple children.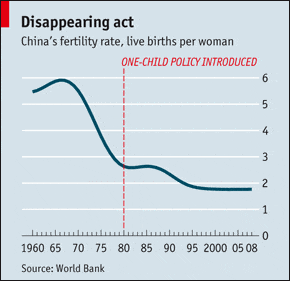 The Chinese government claimed the policy prevented 400 million births over its 30+ year tenure, but this number bears skepticism. In a paper for Harvard, Whyte et. al. demonstrated that birth rates in China had fallen drastically in the decades preceding the enactment of the policy. While it also prompted a large onetime spike in birth control operations (IUDs, abortions and sterilizations), the one-child policy accelerated an existing trend instead of creating a drastic new one. Regardless of the numbers, many recent news pieces have highlighted the toll the policy took on people. A National Geographic article published on Oct. 29 detailed a history of forced abortions, sterilizations and infanticide, as well as the emergent gender imbalance (119 boys to every 100 girls in 2009) created by Chinese value of male children over female ones. The enforcement of the policy is widely regarded to be rife with human and civil rights violations; according to the Chicago Tribune, in 2012 alone 6.7 million women were forced to have abortions. These numbers come from the government, who time and again have proven to release dubiously accurate figures. Further stories abound of "family planning teams" barging into homes and tearing up residences in pursuit of violators. A piece in The Guardian described the all-consuming effects the policy had on all aspects of Chinese life, from marriage choice to only-child psychology, asserting that the lifestyle changes the policy forced will take generations to shed completely.
Following the surprise announcement, many news outlets and scholars alike began to weigh and draw on recent literature concerning the future of China's population. The UN Department of Economics and Social Affairs predicted a substantial population dip was to occur beginning around 2030; Washington DC's Population Reference Bureau asserts that the expansion to a two-child policy will delay this expected reduction by about 5 years. More serious is the rapid percentage of the population considered elderly; by 2035, 20% of the population is expected to be over 65, imposing astronomical costs on China as its workforce dwindles. Soon, the one child generation's couples will have to care for four parents, themselves and their two children, all while combating slower economic growth and rising urban living costs. In a piece by Newsweek, interviewed subjects claim that high housing prices in the biggest cities make it impossible to afford one child, much less take advantage of the ability to have two. Given this policy change, it is clear that China's biggest question in the coming decades will not be a significant population spike; higher education levels, increased cost of living and falling fertility rates will curb the growth. Rather, finding a way to support a massive aging population with a smaller working age one without suffering economic regression will trouble the government for years to come.