Boeing made news headlines last week with the announcement that they will be breaking ground on a new plane finishing facility by the end of March. The facility, which
will focus on the final assembly of the 737, will be in Zhoushan. Included in the final assembly work will the be installation of seats, entertainment systems and other interior finishes. According to MarketWatch, the plant will eventually employ over 2,000 workers and finish roughly 100 planes per year.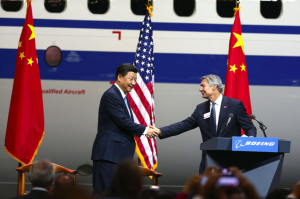 This announcement comes at an interesting time geopolitically. US President Donald Trump has been outspoken in his views towards China in terms of trade and foreign exchange. Despite his strong opinions towards the country, he has been silent on the Boeing announcement. Given that Boeing is the nation's largest exporter and also employs the most engineers in the US, this announcement paired with Boeing's continued shift towards automated work hits against two of President Trump campaign points : to promote job growth and keep production domestic. In a February speech at the Boeing plant in North Charleston, SC, Trump emphasized his intent on keeping jobs at home. He claimed that he would change trade deals a
nd tax structures to keep American jobs. Despite these promises, Boeing CEO Dennis Muilenburg announced they would break ground on the Chinese factory.
A catalyst for the creation of the plant is China's emergence as the worlds fastest growing market for airplanes. China is expected to pass the United States in aviation demand by 2024. According to the Economic Times, "The plant is being set up amid forecast by Boeing that China will need 6,810 new aircraft in the next 20 years at an estimated cost of USD 1 trillion." The factory will create a massive revenue source for Boeing. In addition to meeting Chinese demand, Boeing built the factory to catch up to rival Airbus, which also recently built a factory in China. This is an interested case of a massive American company, and large contributor to trade taking production oversees. It will be interesting to see if other American companies follow suit as the Chinese economy continues to grow, and their burgeoning middle class continues to increase demand for goods and services.