Due to China's One Child Policy (独生子女) and attempts to bolster the economy, the Chinese government and parents alike have recently favored men to women (独生子女). Men now outnumber women by a figure of thirty-four million. One in every three Chinese women in their late twenties are single. Many of these "leftover women" (剩女) are urban and over the age of 27. Some are seeking a Western education. However, these women are still discriminated at home and in work environments. Many companies will not hire a leftover woman, citing the lack of stability of the woman's home life.
Traditional Chinese values have emphasized the importance of continuing family lines. Today, new economic phenomenons are breeding older singles who put their careers before prospects of marriage. Generational belief shifts have bred more independent women who place more importance on their careers than marriage. The younger generation of Chinese Millennials are now dating more freely on their own terms. Due to the lopsided gender gap that has resulted from the One Child Policy, Chinese men are consistently marrying down in both age and economic status.
The Shanghai marriage market, which translates to "the blind date corner", is a market where parents of late-twenty to early-thirty year-old singles come to advertise their children's physical, economic, and educational statuses, and mingle with like-minded parents. Oftentimes, the children have no knowledge that their parents are pawning them out until they are notified of a blind date. There is scarce data regarding the success rate of the marriage market, as no professionals have done adequate research. Freelance businessmen, known as matchmakers, claim to have high success rates for blind date creation, and charge parents $1-3 per meeting. Aside from the physical marriage market, online retailers have cropped up which offer boyfriend rentals to women intending to fool their parents about their relationship statuses. Tinder and other online dating services are also gaining ground in China.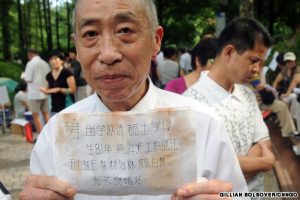 Perhaps the new wave of online dating and a shift in generational norms will pave the way for organic relationships and a Western mindset regarding careers and marriage.