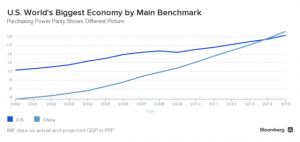 Based on new IMF economic projections, China has now overtaken the United States as the world's biggest economy. This revised projection moves up the point of overtaking the U.S. by at least two year (previous estimates had only been as early as 2016). The large caveat on the news is that the projections are based on "Purchasing Power Parity" (PPP), whereby GDP is adjusted based on exchange rates and the relative ability of money to buy similar goods and services in each economy.
China's economy surpassing that of the United States continues to fuel numerous debates about the bilateral relations between the two countries. The Financial Times has even published a story on the notion of a new "G7" of developing nations (Russia, Brazil, China, India, Mexico, Indonesia, and Turkey), whose collective GDP is now larger that the current G7 (Canada, Germany, Italy, Japan, France, the United Kingdom, and the United States).
The underpinning rationale for fear of China's growing economy, though, is ridiculous. China has a population that is more than four times that of the United States. When China's economy reaches full employment, adequate education, maximization of human capital, and capital flows freely through the country, the economy should be much larger than the United States. For anyone who cares about poverty alleviation and gains from economic growth and trade, China's economy is not at all a bad thing, but a great sign marker growth and economic liberalization. China's GDP per capita still lags behind leading economies, but is quickly catching up. If China continues to grow at current rates, millions more will be lifted to a higher standard of living. I personally hope for further growth in China, for the improvement of lives in China and for the gains that all economic players have from growth and trade.