The United States no longer has a strong hold in Latin America. American investors are seeing more promising deals at home or elsewhere, resulting in an outflow of cash from the region. China has entered as a competing business partner as a result. Chinese banks increased investments in Latin America by 71% last year, and the country plans to double its trade volume with the Central and South American region over the next decade, a CNN Money article explains. While America is still the number one trade partner with Latin America, China is already beating it in some places, such as in trade with Brazil, Argentina, Peru, and Venezuela.
The relationship is mutually beneficial. Latin America's abundance of commodities, like oil and soybeans, supply's China's needs. At the same time, many Latin countries are in need of cash, which China willfully provides.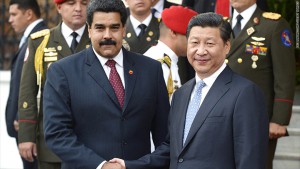 However, Though, Chinese and Latin American economies are slowing down, according to the article. Demand for goods is declining in China, and Latin America's surplus from commodities is shrinking. Nonetheless, both parties are interested in a long-term relationship. China's President Xi Jingping vowed to double trade between his country and Latin America over the next decade to $250 billion.
Source: http://money.cnn.com/2015/03/04/news/economy/china-latin-america-relations-united-states/