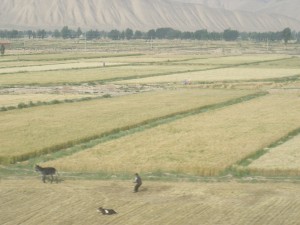 The village of Maoping in 1982 represented both the continuity of Chinese rural life and the changes brought about by the Communist Party.  The peasantry appears unaffected by the efforts at modernization begun near China's eastern urban centers.  Housing was built out of wood and earth in a traditional process centuries old.  Rice remained the staple of the village diet; villagers consumed up to two lbs. daily.  Out in the woods men still cut bamboo by hand.
By 1982 the revolutionary goals of the Communist Party had given way to pragmatism.  The failure and starvation caused by the Great Leap Forward certainly contributed to a more cautious and realistic attitude toward reform by a party that was becoming more mature.  The peasants in Maoping at the time of the film were once again allowed to keep their produce, in contrast to collectivization, contributing to a rise in productivity.  The de jure equality between men and women is just that, with the de facto separation of men and women into manual labor and homemaking in the workforce left untouched.  The village doctor also continues to use traditional remedies alongside modern medicine.   Likewise, the CCP secretary in the village is less of an ideologue and more of a "father figure," a role very similar to the village headman of past centuries.
The Communist Party's most successful reform of village life in the film was education.  Many children were likely the first literate generation in their family.  Education was a merger of local and state involvement; the state provided the teacher, the village built the school, and the parents bought the books.  Overall education was the one area in which the Chinese state succeeded in reforming village culture.