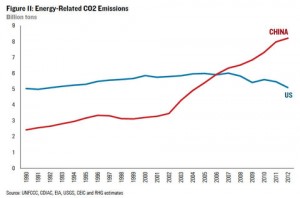 A consulting firm called the Rhodium Group recently released a report that looked at China's CO2 emissions, energy trends, and energy policies.  China is in the process of implementing its 12th Five Year Plan, which set a variety of energy emission reduction targets, including curbing CO2 output.  The plan began in 2011 and concludes in 2015.  There has been much talk recently about the effectiveness of the plan and the importance of finding a happy medium between curbing greenhouse gas emissions and promoting economic advancement.  In response, the Rhodium Group analyzed the plan's success thus far at meeting the three targets set by the Chinese government:
1.  Reduce the energy intensity of the economy by 16%.
2.  Increase non-fossil energy to 11.4% of the total supply.
3.  Cut the carbon intensity of GDP by 17%.
The data from Rhodium Group's analysis shows that China has made steady progress toward achieving these goals, but still has a long way to to to fully achieve the 12th Five Year Plan's high ambitions.