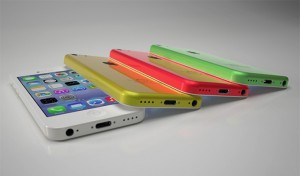 Apple unveiled two new iPhone's today in Cupertino, CA. The iPhone 5s is the successor to the popular iPhone line, however in a unprecedented move, Apple also released another phone, the 5C. The iPhone 5C is the new $100-$200 (16-32GB) option which Apple is using to target the lower income smartphone consumers. Many analysts and experts have commented that the "C" in 5C stands for China.
As we have talked about in class China is still very much a maturing economy and Apple is targeting the hundreds of millions of Chinese in the demographic looking for a cheaper smartphone. Apple developed the assumption that an urban working class family in China would be willing to pay up to half of its monthly income on a single smartphone. When this assumption is hashed out, it means Apple believes there are roughly 260 million Chinese urban citizens who could potentially buy the iPhone 5C. Apple's current market in China is roughly 125 million. It is being reported that the iPhone 5C will sell for 3,000 yuan ($480) in China. The more affordable iPhone version possibly made for China may [still] be too expensive for one of its target markets. A Chinese phone salesmen said he believed that 70% of the population were more interested in a phone priced between 1,000 and 2,000 yuan.
It will be interesting to see if the iPhone 5c has a favorable reception in China and increases Apple's overseas business. As for China, the iPhone 5C has interesting implications for the  growth of its middle class. It appears to me that the situation will be mutually beneficial as the Chinese will receive better technology and Apple will increase its market.
Source: Mozur, Paul. "Cheap IPhone Might Not Be Cheap Enough in China." China Real Time Report RSS. Wall Street Journal, 11 Sept. 2013. Web. 10 Sept. 2013.