Sara Hsu, in a post for the blog "Naked Capitalism," asserts that borrowing is being used to prop up Chinese GDP statistics. Total debt of Chinese corporations, local, provincial, and state governments has reached 85 trillion yuan. Hsu, an Economics Professor in the SUNY system, argues local governments have wanted to appear to be stimulating growth despite a slowing real production. Government and corporate debt, issued primarily through securitized loans known as "entrusted" or "trust" loans, have been used to mask economic shortcomings.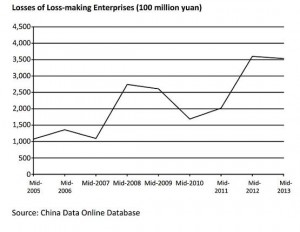 Economic news from China is increasingly less rosy. The jump in the number of loss-making enterprises from 2,00 to 3,500 in the past 2 years and a significant drop in year on year growth in industrial value added were used as examples of this trend.  Hsu argues a credit crisis is possible. How likely is such an event?
I identified similar risks in my blog post "Credit Bubble Imminent?" on 9/11/13.  China's debt levels are high, even in excess of other fast growing countries when they experienced a credit crisis.  If China is reporting fraudulent or manipulated GDP figures as has been sometimes argued, and does not act to slow credit growth, a sovereign debt crisis seems possible. Such a crisis is unlikely, but should not be ruled out by investors.
Such an event would devastate citizens as unemployment skyrockets and personal savings are wiped out, causing poverty and unrest to rise. Hsu argues that controlled deleveraging and protecting/shrinking vulnerable financial institutions could preclude such an event. Will the Chinese government will be able to successfully manage this changing economic situation?
Source: http://www.nakedcapitalism.com/2013/09/chinas-ultimate-debt-holders-not-the-borrowers.html