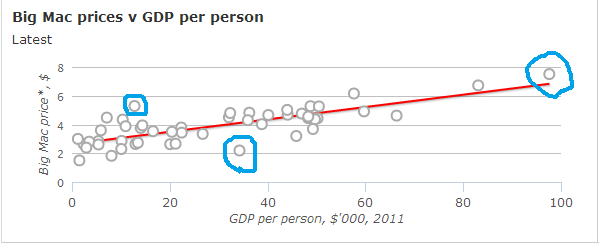 The magazine The Economist uses its own reference index for purchasing power parity. The Big Mac Index is used for comparing prices of goods in different economies. They use the price of a Big Mac in the United States to compare the purchasing power of consumers in the United States to the purchasing power of consumers in China buying the same product. A Chinese Big Mac costs 2.61 dollars at the market exchange rate. In the United States a big mac costs $4.56. The article explains how if you take (1-(the Chinese cost of a big mac / the american cost of a big mac)) you see that the yuan currency is undervalued by 43%. This same process can be used for any country's currency. Norway and Venezuela according to this formula are over overvalued by greater than 100% and Hong Kong, South Africa, and India are all undervalued by more than 50%.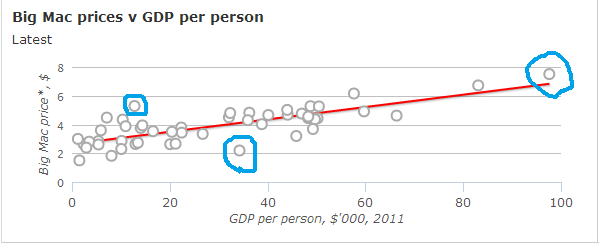 Analysis: I have selected 3 specific data points on the graph provided by The Economist that stood out as significant. This graph compares GDP per person with the Big Mac Index and plots a linear regression. The data point (100,7.8) is Norway; due to a high GDP per capita it is not in the cluster of data points towards the middle and opposite side of the graph. It is however relatively in line with the slope of the linear regression; this is because its Big Mac Price is overpriced relative to the dollar. Two contrasting points are Hong Kong and Brazil. The blue circle in the middle is the Hong Kong point. Hong Kong according to the graph is an outlier due to the x-axis variable of GDP per capita being very high. In comparison to other extremely undervalued currencies Hong Kong has a substantial GDP share per capita. Brazil is an outlier for a y-axis variable that is higher than the x axis variable. Brazil's currency is overvalued and their GDP per capita is very low.
Purchasing power parity is an important economic tool to see the "real" income of individuals in different economies. If your nominal wage increases, yet inflation causes the "real" wage to drop, your purchasing power drops. This type of income drop would shift your demand curve inwards. This is just one reason why purchasing power is important and people take the time to study it. When setting up a business in a foreign country these types of purchasing power differences are important to take into account.