In terms of innovation, the Chinese model is led by the state, which selects several areas of importance and gives them copious funding in order to lead innovation and produce more research in that specific sector. While this has been successful in targeting and improving many sub-fields, many economists do not feel that this approach will work in the long term.
The pressure is on for China to keep up the record levels of economic expansion it has seen in the past few decades, however; with the rate of economic growth decreasing from 10.4% to 7.5% in the past 2 years, many people worry that further decreases are eminent if China's growth model stays the same. Those who are worrying have doubts about a successful future with China's reliance on imitating western goods instead of innovating.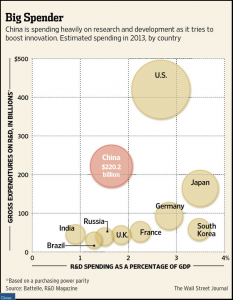 Economists are at odds with each other about what China's growth model should look like. Some feel that China still has the ability to succeed by imitating western technologies as long as they can produce them more cheaply. Other economists believe that innovation and inventions are at the root of market growth, without unique innovations, an economy cannot sustain long-term economic growth.
China faces many struggles with innovation because the government doesn't do very much to protect intellectual property. Another obstacle is the importance placed upon headline-grabbing technological innovations instead of more practical but less publicized innovations, which could create new industries.
Source: http://online.wsj.com/news/articles/SB10001424052702304795804579099640843773148