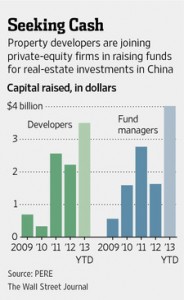 With the recent leadership change in China, foreign developers are rushing to invest in commercial real-estate in China. Historically, private equity firms had been the ones to invest in the options such as shopping malls and warehouses.
So far in 2013 foreign developers have raised $3.5 billion, surpassing the $2.2 billion raised in all of 2012. Consumer demand in China is continuing to grow as a result of continued urbanization and with it is demand for modern logistics facilities. Global Logistics Properties a Singapore based warehouse developer and operator has created an infrastructure fund to help capture opportunity in what promises to be a $2 trillion market opportunity.
With uncertainty over the availability and cost of credit in the Chinese economy as the government is making efforts to restructure its financial sector, foreign firms are looking to such funds as a way to gain exposure to the Chinese market despite these structural uncertainties.
Foreign investors had been investing in the Chinese real-estate market since the 2000's, but the recent shift toward commercial real-estate from residential is perhaps due to over investment in that area.