The pollution in China has reached a critical level. One-third of the urban population breathes the contaminated air and, as a result, lung cancer is the number one cause of mortality in China. It has also been reported that acid rain falls on one-third of the country. The United Nations Environment Programme (UNEP) reported that nine of the world's ten major air polluted cities (except Rajkot in India) are China's big cities, such as Taiyuan, Lanzhou, and Chongqing. The reason why the air pollution problem has gotten worse is due to the use of coal. They get about 80% of energy from using coal. China is the world's largest coal producer and consumer as well as accounting for one-third of world's coal distribution.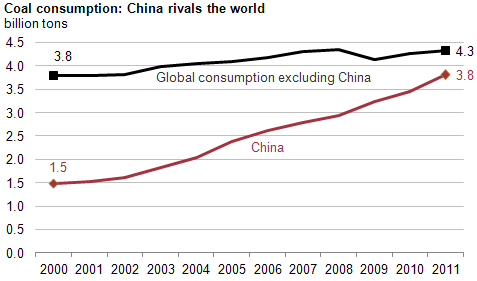 The graph pictured shows that the coal consumption in China alone has reached the consumption level equal to that of the rest of the world. The coal consumption in China has risen to nearly 47% of the world's coal consumption. In 2007, China had become the world's largest carbon emitting country and became number one in energy consumption in 2010.
The government has taken a number of measures to keep the pollution level low,but this leads to low consumption of coal, which is critical to Chinese economy. The need of developing other forms of technology or resources has become an extremely important task for China.
Further Reading: Chosun (Korean Language), US-DOE EIS