Americans, the rich and the poor, often talk about how China's growing economy will soon surpass that of America and how US will lose the economic competition.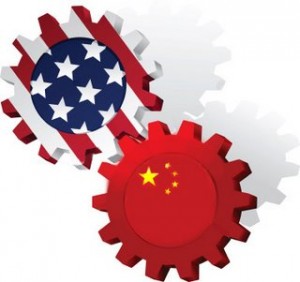 As this article by Christopher Matthews points out, President Obama often uses the language of competition (using examples of South Korea and China) to talk about how America should invest more in education and other areas in order to be more competitive.
So is economics about competition? We often measure a country's production of total value of goods and service by GDP.  According to Google, as of 2012, GDP for US is 15.68 trillion dollars and 8.227 trillion dollars for China.
Although US GDP is higher than that of China right now, many experts predict that the size of China's economy will surpass that of US soon. Although there are some arguments about when it will (some say by 2016 or 2028 due to difficulty of comparing different countries' economies with different currencies with different purchasing power), no one cannot deny the fact that China has a fast growing economy.
Going back to the question of competition, is economics really about competition? Many argue that it is and that we should try to maintain the higher GDP. However, can we think about it in a different way? How about economics being about collaboration as Chris points out in the article? From our previous economics courses, we learned that if another country's economy grows then there will be a bigger market for goods and services that we can create in the US. This might be controversial but if we can collaborate, then certainly, both of the countries' economies will grow.
Further reading: Business Times article, US GDP, Chinese GDP, US-China comparisons