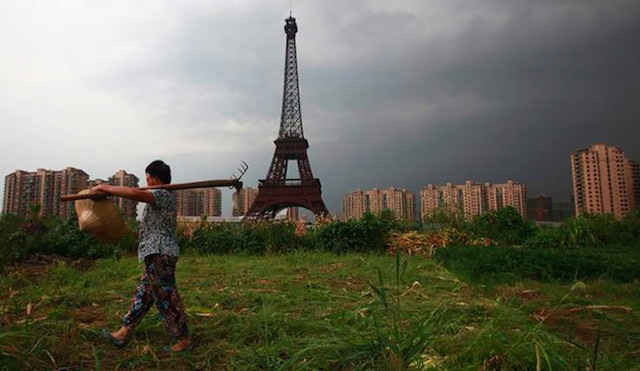 China is the big new player on the global economic scene. They are now on track to pass America as the leading economy in 20 years, but how have they been able to have such growth? One answer lies in Real estate. Over the last few years, construction has accounted for 13% of the country's GDP. However this number is very misleading because property constructions, not sales are what factor into the 13% GDP number. This fact has led to wild land speculation and a voodoo economic vibe of build now, sale later. With such numbers, one must worry if China is headed towards a similar economic crash as America's in 2008.
For an example of this, one needs to head no further then China's fake Paris. Thirty minutes outside of Shanghai, the almost exact replication of Paris is little more then a tourist attraction. As of today the, 1 billion dollar city is only at 2% of its capacity with little to no development outside of the tourist who come to see the oddity.
This city is not alone, as many as thirteen cities in China over the past ten years have succumb to the same fate. Each ghost city follows a similar pattern. The city is beautifully designed and planned, but are placed in the middle of nowhere. Demand does not follow the supply and the city remains half finished and vacant. Despite the old adage, sometimes if you build it, they won't come.