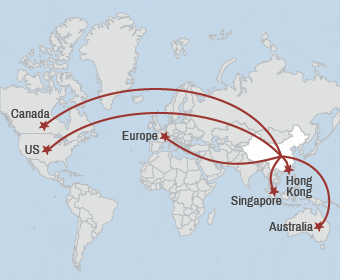 According to CNN Money and research firm Hurun, about 2/3 of wealthy Chinese (with more than 1.6 million dollars in the bank) have emigrated, or are planning to. As you can see in the map, some hotspots where they move into are:  Europe, the U.S., Canada, and Hong Kong. However, an interesting fact is that this idea is not population amount the "super" rich. They tend to stay in the country.
This can be a good news for other countries because these rich Chinese can invest in the countries' economies and become skilled workers. For example, in my previous post, I talked about how Chinese invest in Detroit. They have invested over a billion dollars in Detroit. Similar things can happen to Africa, Europe, and other countries.
There are also other benefits. Some say that a lot of these Chinese emigrate to Germany, where they create lots of jobs and businesses. This strengthens and bolsters the economy.
However, if we think about it in the other direction, poorer and poorer people will stay in  China. Would this be a good thing for China and eventually to other countries?
Source: CNN Money