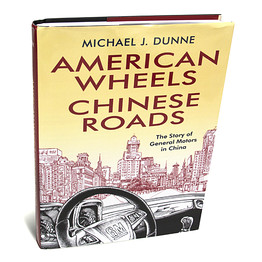 Despite the fact that GM had been losing market share for nearly 50 years and finally collapsed in to government guided bankruptcy in the United States in 2009, the company had become a major player in the auto industry in China. This is quite interesting, considering the fact that China is considered one of the most difficult car markets in the world. Between competing with the Chinese government and others, GM somehow emerged on top in a hostile and ultra competitive car market.
This book review from the WSJ of Dunne's American Wheels Chinese Roads "deftly sketches the cast of characters…as consumers, corporations and cultures clash against an epic industrial backdrop." Thanks to motivated local management, a very strong relationship between GM and SAIC, and numerous expensive engineering alterations, "GM Shanghai thrived."
SAIC announced in 1995 that it would work with GM – thus the "50-50 partnership known as Shanghai GM was born." There was also growing concern that Shanghai GM could lose market share to its across town rival, Ford. This risk was reconciled through GM's "willingness to empower its Chinese partner" which was a key to their mutual success. The article does note that in Dunne's final section he suggests that a day may arrive when SAIC leaves GM behind. He then notes that "Shortly after GM emerged from government-guided bankruptcy, the company, desperate for cash, sold 1% of Shanghai GM for a paltry $85 million…and ceded control of the joint venture to SAIC. Dunne notes that this forfeiture of leverage may mark the beginning of the end of GM's success in China.