Relationships between China and Argentina are branded by the latter's desperate dependency on the Asian nation. In his investigative journalism television program, Periodismo Para Todos, Jorge Lanata discusses the commercial relations between both countries, questioning some of the polemic agreements made and suggesting disparity, with the balances tipped away from Argentina.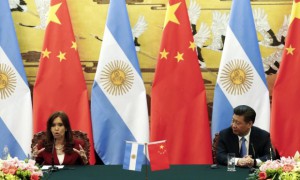 Today, such relationships have developed to the point in which China wants to "bail out" of Argentina. Considering the recent drop in the price of soy bean (the most important of Argentina's exports), China's generosity is the only thing keeping the already weakened financial system of the South American country from collapsing . Today, China accounts for "73% of the market among major importers"(The Guardian). Given that "in 2010, China banned imports of Argentine soybean oil" (Bloomberg Business), Argentina should be very careful not to lose its most important importer once again.
Más de 1.000 asistentes al evento… ¿Serán todos de "La Cámpola" y vinieron sólo por el aloz y el petlóleo? …

— Cristina Kirchner (@CFKArgentina) February 4, 2015
Having this in mind, one might be utterly shocked with the behavior of Cristina Kirchner, the Argentine president. Earlier this week, Fernandez went on a trip to Beijing during which she expected to sign commercial agreements. As she met the Chinese president, Xi Jinping, Fernández "posted a message on twitter that mimicked a stereotypical Chinese accent, asking about "lice" instead of "rice"and "petloleum" rather than petroleum"(Bloomberg Business).  After the meeting, Xi stated that he was "even more confident of the outlook for China-Argentine relations."
As an Argentine, I can only feel deeply concerned and worried after hearing about such a calamity. The ignorance and incompetence demonstrated by that tweet sadly reflect the quality of government that has been in power for over a decade.
Further more, the president's trip to Beijing is itself controversial:"The controversy comes as Fernández struggles to distance herself from the mysterious death of prosecutor Alberto Nisman, who was found dead in his bathroom on 18 January, hours before he was to elaborate on allegations that Fernández helped shield Iranians connected to the 1994 bombing of a Jewish community centre that killed 85." (The Guardian) This article from The New York Times is a great summary of this scandalous event and its current repercussion. The case in question is a fine example of the many mafia-like procedures by the government headed by Cristina Fernández de Kirchner.
Sources: 1. NYTimes, 2. The Guardian, 3. Bloomberg, and 4. the BBC.