Chinese officials revealed a plan to develop urban "city clusters" along the middle reaches of the Yangtze River today. The objective of the plan is to "create a new economic growth engine and promote new urbanization" in a time where China has seen declining growth rates and unprecedented but unsustainable rural to urban migration.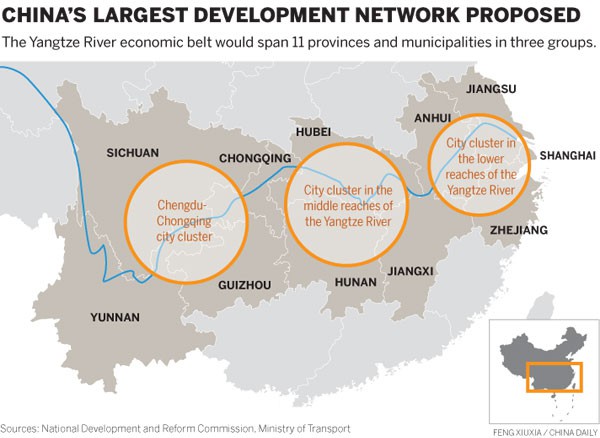 The new urban clusters cover a total area of 317,000 square kilometers and are concentrated around Wuhan in the Hubei province. The sites of this project are seen as good opportunity areas to implement the "Rise of Central China Strategy," which was put into effect in an effort to promote more balanced development across the nation in 2004. In a statement released by the State Council, officials said "Efforts will be made to make the most of each area's comparative industrial advantages, build competitive industry clusters, strengthen modern agricultural bases, promote industrial transfer among different areas, and speed up industrial upgrades."
China has struggled over the past three decades to develop a model for sustainable urbanization. The creation of an economic belt along the Yangtze, China's longest river, is seen as an opportunity to foster better coordination in industrial development and facilitate efficient allocation of resources among provinces and regions in the area. The integration and coalescing of these city clusters will require significant capital investment in infrastructure development, which will ideally spur local market demand and simplify commercial transactions with business outside the region.
The central government will be working closely with local governments along the middle reaches of the Yangtze River to implement these measures, but systemic delays could arise due to the difficult nature of this task.
Sources:
http://usa.chinadaily.com.cn/china/2015-04/05/content_20006073.htm
http://www.chinadaily.com.cn/m/shandong/e/2009-06/18/content_8486725.htm