The city of Ordos (pronounced È'ěrduōsī ) is a prefecture-level city located about 200 miles West of Beijing in southern Inner Mongolia.  While not a traditional Chinese name, the word "Ordos" traces its origins to the Mongolians, translating to palaces in Mongolian.  The urban area itself is relatively small, as while the county of Ordos may be rich in natural resources, government projects to draw migrants to the relatively new city have been largely unsuccessful.  As a result of this, Ordos is known for being a "ghost city," with thousands of towering apartments and housing projects going completely uninhabited.
Economy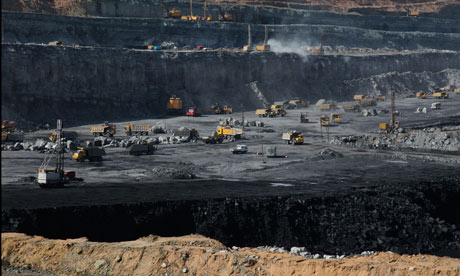 The economy of Ordos city, along with the whole of Ordos county, revolves around the coal mining industry.  As a result of the area sitting on top of China's largest coal reserves, in 2011 Ordos had a nominal per-capita GDP of roughly $18,287 (109,727元) ranking it among one of the richest regions in China.  In addition to coal, the city also has a prominent wool industry.
Kangbashi New Area
As the coal industry grew throughout the early 2000s, government officials initiated the construction of the Kangbashi New Area, an urban housing development intended to house up to 1,000,000 people.
As of 2010, Kangbashi was home to only 28,000.  A 2009 Al Jazeera report that shed international light on this massive urban failure caused real estate analysts to begin to seriously question the state of the Chinese housing market, initiating the discussion of a massive real estate bubble doomed to burst.
Sources: