On December 7th, 2015, China's Central Bank reported that foreign exchange reserves had fallen to $3.4 Trillion, the lowest level since 2013. "Today's data suggest that capital outflows picked up sharply last month," says Julian Evans-Pritchard, chief China economist for research firm Capital Economics. Money has been steadily flowing out of the country since August of 2015, when China devalued its currency. This surprise devaluation led critics to believe that China's economy was worse off than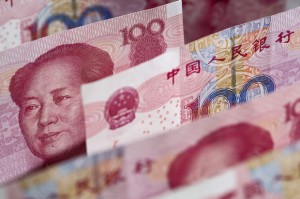 most people realized, resulting in an outflow of currency.
China has been trying to offset this outflow of currency by using its foreign exchange reserves to buy back the Yuan.
China has already seen an outflow of over $500 Billion this year, despite the fact that China limits the amount of money its citizens can move outside of the country to $50,000 per year. As a result of this significant outflow, China has further restricted the amount its citizens can move out of the country even further in hopes to limit the outflow of currency occurring in China.
Site: http://money.cnn.com/2015/12/07/news/economy/china-foreign-exchange-reserves-shrinking/