According to Asian Development Bank, following three decades of exceptional economic growth, the People's Republic of China (PRC) is now regarded as an upper middle-income country. With its economic growth, China, along with Ireland and the United States, drove growth in the in both the world's bank and non-bank finance industry.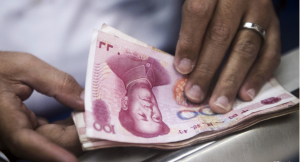 According to Financial Stability Board, last year, a sector topped USD 80 trillion in assets. Global shadow banking, or lending not captured on banks' balance sheets and therefore slightly regulated, grew by USD 1.6 trillion in 2014. Due to its short history and experience in the economic world, China is worried by many that it will bear lots of shadow banking risks, which are shifted from the United States.
There has been lots of problem in China's banking system as well. The newish government of President Xi Jinping vowed to push ahead with financial liberalization. On March11th 2014, regulators approved a pilot scheme to allow five privately owned banks to be set up in various parts of the country. Along with its rapid growth, China's banking sector also bears high-level corruption scandals. Yang Kun, former vice president of state-owned Agriculture Bank of China Limited (HK 1288), may soon be prosecuted for allegedly taking bribes from Beijing-based property firm Blue Harbor Properties Co. Ltd. For the development of Solana- a shopping center in a large park near Beijing's central business district. According to Caixin, a well-respected financial media outlet, Yang accepted "tens of millions of yuan" from the developer in return for extending about 3 billion yuan (USD 480 million) of loans to the company since he became vice president of ABC, China's third largest lender by assets, in 2004. Yang had worked at ABC for 29 years.
He is the highest-ranking bank executive to be investigated since the "Big Four"state-owned banks listed on the market.(China's "big four" are: ABC, Bank of China, China Construction Bank Corporation, and Industrial and Commercial Bank of China).
Yang is definitely not a unique case of corruption of China's banking system. Other cases would be Zhou Caikang, the former head of a regional branch of China's central bank; Tao Liming, the president of Postal Savings Bank of China, the country's seven-largest bank; Zhang Enzhao, the former head of China Construction Bank.
Fraudulent loans are on the rise in China as economic growth slows, threatening to further undermine the country's $29tn banking system, which is already under pressure from an indebted corporate sector. China remains the largest exporter of illicit money, with over a trillion dollars flowing illegally out of the country from 2002-2011. And the Bank of China allegations have been called by many as "money laundering". Bad marketing and flawed investment products rocking the reputations of Chinese banks have now spread to the world's biggest lender by assets.
Along with its rapid growth, China, as the largest economic body over the world, has caught the eyes of many economists. Many points out that Chinese financial system need to be improved. And Barry Eichengreen argues that developing the Chinese financial system starts with reforming and strengthening the banks. Methods like commercialization, regulatory rationalization, and widening the regulatory perimeter are highly crucial to Chinese banks.
Work cited:
"People's Republic of China and ADB", Asian Development Bank, Web. 25. Feb. 2016. http://www.adb.org/countries/prc/main
Don Weinland, "Shadow banking risks shift from US towards China", South China Morning post, 13. Nov. 2015. Web. 27. Feb. 2016. http://www.scmp.com/business/banking-finance/article/1878617/shadow-banking-risks-shift-us-towards-china-fsb-report-says
"China's banking: March of the Banks ", The Economist, 15. Mar. 2014. Web. 2. Mar. 2016. http://www.economist.com/news/finance-and-economics/21599049-financial-liberalisation-moves-ahead-china-march-banks
Moran Zhang, "A look At China's High-Level Corruption Scandals In The Banking Sector", International Business Times, 21. Mar. 2013. Web. 2. Mar. 2016. http://www.ibtimes.com/look-chinas-high-level-corruption-scandals-banking-sector-1141369
Don Weinland, "Chinese bank hit by USD 4.9bn loan fraud", The Financial Times LTD, 17. Feb. 2016. Web. 1. Mar. 2016. http://www.ft.com/cms/s/0/31fd750e-d06d-11e5-831d-09f7778e7377.html#axzz41nN4ONtG
Michele Fletcher, "China's Underground Bank", Global Financial Integrity, 16. July. 2014, Web. 1. Mar. 2016. http://www.gfintegrity.org/chinas-underground-bank/
Don Weinland, "World's biggest bank gets caught up in China investment scandal", South China Morning Post, 1. Dec. 2015. Web. 2. Mar. 2016. http://www.scmp.com/business/banking-finance/article/1885510/worlds-biggest-bank-gets-caught-china-investment-scandal
Barry Eichengreen, "China's challenge- how to strengthen the financial system", Capital Ideas, 26. Aug. 2015. Web. 2. Mar. 2016. http://chicagobooth.edu/capideas/magazine/fall-2015/chinas-challenge-how-to-strengthen-the-financial-system