China's rapid economic growth combined with central urban planning has produced dozens of ghost cities, which are brand new cities with almost no inhabitants. Some of these cities, such as Kangbashi, were built to house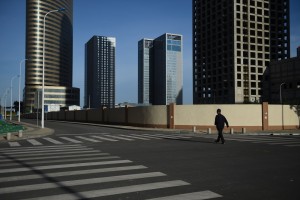 over a million individuals, but currently hold only 20,000. This unused housing is shocking since China's population is rapidly urbanizing. The percentage of the Chinese population living in cities has doubled since 1990 and is expected to continue to increase. This demographic shifttrend caused the government to plan the construction of brand new cities. However, migration did not always occur in predicted patterns, and some cities went uninhabited.
Another cause of these ghost cities is economic incentives established by the central government. Local governments are encouraged to achieve the highest GDP growth possible. Since large-scale investments
 and construction are the easiest way to boost GDP, many local officials push for large development plans. Due to slowing population growth and an already sufficient infrastructure system, China will need to shift their growth strategies from investment to consumption.
While these ghost cities have drawn large amounts of international criticism, they must be looked at with the correct time frame. These cities are usually planned with a 10-15 year timeline. As a result, some ghost cities are simply in between the construction and population stages. Also, while these cities receive a large amount of press, ghost cities that become inhabited go relatively unnoticed. In the long term, some of these cities may remain uninhabited, but the majority will be filled.
Works Cited
Cima, Rosie. "Surveying the Ghost Cities of China." Priceonomics. Priceonomics, 19 Nov. 2015. Web.
Shepard, Wade. "5 Chinese Ghost Cities That Came Alive." Vagabond Journey Travel Stories and World Culture. N.p., 10 May 2015. Web.
Singh, Maanvi. "We Know China Has Ghost Cities, But Where Are They Hiding?" NPR. NPR, 18 Nov. 2015. Web.