There is no institution in any culture more significant than the family. China, of course, is no exception—and its traditions of family structure have been historically ingrained in Chinese culture. One of the defining characteristics of Chinese familial structure is virilocality.
Virilocality means that once a husband and wife are wed, they live with the groom's family. This living situation is not surprising, considering the country's patrilineal outlook (that is, calculating descent through the lineage of a family's men). Once a woman was married, she was essentially removed from her family tree and placed in the husband's family tree. To keep this male lineage going was very important. If a man failed to produce male offspring, he was looked down upon—and upon death considered dangerous ghosts.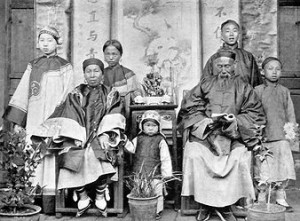 Also, the Chinese family was traditionally patriarchal. The head of the house was the most elderly male, and males of the same generation were always superior to women. Considering the male-dominated mentality evidenced by the patrilineal, and patriarchal outlook on family structure, it is therefore no surprise that virilocality was the traditional family structure.
Virilocality was viewed as "normal" from both ends: the wife's family expected her to leave, and the husband's family welcomed the newly married couple into their family estate. This was a defining point in a woman's life—rife with sorrow for having to leave her family home. This could occasionally be offset by the sense of adventure of starting a new life in a new location with the status of being a married woman. There are long-standing traditions on this theme of sorrow—which includes musical lamentations and ritualized sorrow sessions with the wife's unmarried friends or younger sisters. But sometimes virilocality was not feasible. If the head of the male's household was a poor farmer with little income, other alternatives had to be considered.
In about 20% of all Chinese families, the husband was forced to live with the wife's family. This is a uxorilocal structure. Sometimes this was for purely economic reasons. Other times it was because the wife's family had no sons. The son-in-law, therefore, would be a stand-in son for the wife's family, and sometimes took one of the wife's parent's surnames. This, however, was a slap in the face to the son's biological parents, if they were living.
But overall, uxorilocality broke the social mold and was looked down upon—uxorilocal husbands were viewed in scorn or suspicion. Such marriages were viewed as a "backward-growing sprout" (dǎozhù miáo 倒住苗) and husbands viewed as "superfluous husbands" (zhuìxù 赘婿).
Urbanization has caused an overhaul of this familial tradition. But I wonder: for rural families, is this tradition still observed? And what are the expectations for two you people who are married in the city?
Sources: http://pages.ucsd.edu/~dkjordan/chin/familism.html#virilocal;