After China's feudal system was abolished and a republican government was formed in the 1920s, a sector of small and medium-sized enterprises (SMEs) was created. This sector was virtually eliminated in the 1950s with the collectivization of agriculture and the nationalization of industry under Mao's Communist government. Enterprises had to seek approval from the government for all expenditures exceeding $10, and SOEs held near-monopolies in the market. China's "iron rice bowl" system, which is now abolished, guaranteed life-long employment in SOEs and controlled nearly every aspect of employee's lives. Thus, it was difficult for government outsiders to gain significant social and economic standing. The reforms of Deng Xiaoping and the "opening up" of China's economy has spurned private sector growth. During the last 35 years the entrepreneurial sector has grown from about zero to "more than six million registered private businesses", which account for 70% of China's GDP. In 2000, private sector and state-owned enterprises generated equal parts of China's GDP: 4 trillion yuan. This number has grown 18 times for private sector companies, while state-owned companies have only grown by one-third of private sector industries.
Historically, China's entrepreneurs have been relatively uneducated and have had little to no management experience. In modern-day China, entrepreneurs are well educated, and average about 31 years of age. They are ambitious, curious, and are aware of the historical difficulties of generating investment and company growth. One company in particular, Mobike, is reaping the benefits of the recent growth of China's entrepreneurial sector.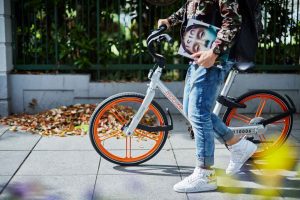 Mobike is a Shanghai bike-sharing startup founded in 2015 by Hu Weiwei. The company is unlike government-owned bike-sharing companies whose bikes are free and must be placed in designated areas around cities. Mobike's bicycles are self-locking, can be left anywhere, and users unlock the bikes by scanning a QR code through the Mobike app. It costs about 1-2 yuan to use the bikes for one hour. In September 2016, Mobike had 30,000 bikes in China's major city hubs, and planned to expand operations to 100,000 bikes by the end of 2016 due to an undisclosed investment from internet giant Tencent. Tencent owns WeChat, which is a social media app with over 800 million users. This investment will inevitably encourage young Chinese entrepreneurs and further fuel China's private sector, as if it were not growing quickly enough.
Sites consulted:
https://www.bloomberg.com/news/articles/2016-10-30/uber-s-bruising-battle-in-china-is-being-refought-with-bicycles
http://www.forbes.com/sites/tseedward/2016/04/05/the-rise-of-entrepreneurship-in-china/#1e7d69986d61
http://news.bbc.co.uk/2/shared/spl/hi/in_depth/china_politics/key_people_events/html/4.stm
http://journals.sagepub.com/doi/full/10.1177/0266242613517913