Next week, on Thursday and Friday, President Donald Trump will host Chinese President Xi Jinping at his Mar-a-Lago resort. This is not the first-time Mar-a-Lago has been at the
forefront of the news cycle as President Trump often retreats to the Florida resort on the weekends to escape the capitol. One of the main conversation topics of this meeting will be the implementation of trade tariffs which the President has threatened throughout his campaign as well as into his first 100 days. The proposed 45% tariff would be an enormous increase from the existing 3% tariff levied on Chinese imports to the US, and would assuredly have a large impact on Chinese exports. China will look to dissuade President Trump from this tariff increase and they plan on doing so through President Trumps son-in-law, Jared Kushner. The Chinese government will try and take advantage of Trump's convincibility by leveraging one his senior advisors.
When commenting on the GDP effects that this would have, Gene Ma, economist for China at the Institute of International Finance stated that the "direct impact on GDP would be sizable. The value added by export[s] is about 10 percent of China GDP, and [the] U.S. accounts for about one-fifth of China exports." Because of the global aspect of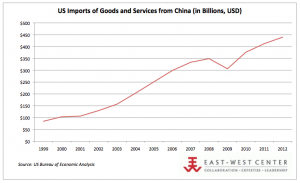 the United States economy, these threats from President Trump would not only have an adverse effect on Chinese production but also on American production as well. Multinational companies such as Walmart outsource much of their production to China. They will have to pay more to import these goods back to the states and this tariff would cause their prices to spike. Because of this, American consumers would suffer and consumer demand would presumably decrease. According to CNBC, "China exported about $482 billion in goods to the United States in 2015, more than any other country". The average American would be unable to shoulder the burden of this massive tariff, even if companies were to partially internalize the cost. Given the implications of the proposed tariff, many are looking to see how the markets respond leading up to, and in response to, the upcoming meeting.
In addition to the talks on trade, there are other issues that will be at t
he forefront of the conversation between Presidents Trump and Xi. Included will be the South China Sea, where China has claimed the territory as its own from other countries in the region, specifically the Philippines and there have been murmurs of potential military action. The South China sea is valuable for several reasons, including rich mineral deposits and favorable shipping lanes. It will be interesting to see how the meetings later this week play out, as well as how China-US relations change under the Trump administration.
Sources:
http://www.sandiegouniontribune.com/military/sd-me-ship-deployments-20170331-story.html
http://www.cnbc.com/2016/12/07/trump-and-china-tariff-on-imports-would-hurt-many-us-companies.html
http://www.cnbc.com/2017/03/31/trumps-mar-a-lago-diplomacy-with-chinas-xi-may-reveal-more-than-you-think.html
https://www.bloomberg.com/politics/articles/2017-01-18/why-trump-s-tariff-threats-get-taken-so-seriously-quicktake-q-a
http://forward.com/fast-forward/367867/is-jared-kushner-the-surest-path-to-trumps-ear-china-thinks-so/