With the India-China Strategic Economic Dialogue, India and China could potentially join forces and foster economic power.  This dialogue could lead to gaining high-speed Chinese trains and to having Indian information technology experts working in China.  This dialogue would also open up more opportunities for foreign direct investment between the two countries.  The India-China Strategic Economic Dialogue aimed to achieve $70 billion of trade by the end of 2012 and hopes to achieve more than $100 billion of trade between the two countries by 2015.  This could even strengthen their strong trade relationship.  Currently, China is India's biggest trade partner.  In addition to the impact of the high-speed rail system, there are 10 agreements that were expected to be signed in November of 2012.
The impact of the potential connection between the two countries is important because it shows India's willingness to allow Chinese companies enter the Indian market and the China's willingness to allow Indian companies into its market.  India looks to also learn from the China's infrastructure technology in order to build similar small routes in its own country including a line from Delhi to Chandigarh.
An important issue with these discussions is the concern about the safety of the high-speed rail systems.  In July of 2011, 40 people were killed in a collision near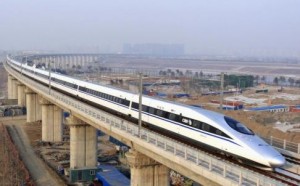 Wenzhou.  Due to this incident there has been a lot of work by the Chinese to increase the safety of this rail system.
Finally, the India-China Strategic Economic Dialogue also has brought up cooperation between China and India in looking for clean technologies aimed to reduce global warming impacts.  There has allowed been discussion of creating to working groups to tackle energy efficiency and environmental protection.
In conclusion, the India-China Strategic Economic Dialogue could create a high-speed rail linking the two countries and increasing trade of goods, services, and investment, lead to investment in green technologies, and better technological improvements for both countries.
Hindustan Times article and
South China Morning Post article