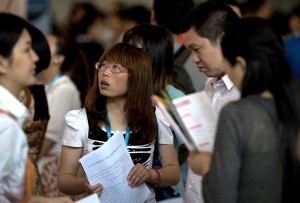 China currently is facing a huge education mismatch problem. Educated young people coming right out of college are unwilling to work the factory jobs that their parent's held. What China needs is assembly-line workers who do not mind working all day long on backless stools. Factory manager Jin Tao is having a difficult time finding people to fill jobs in his factory. "I see the problem mostly as an education mismatch problem," Mr. Jin said. "I'm willing to pay more than 3,000 renminbi a month, which is more than what fresh college graduates are getting." (That's about $500.) "I'm also willing to give training, but the young people now with college degrees just don't want to work in factories." For the past three decades the Chinese economy has thrived off of factory construction, bridges, roads and apartment towers, yet young educated Chinese are unwilling to work these jobs.
At the Third Plenum, Chinese officials will try to develop a solution to the great unemployment issue among young educated Chinese. The unemployment rate for recent graduates is around 25%. Many businesses are offering more money for their factory job openings and even low end employment – but cultural norms discourage college graduates from taking these positions. Almost three quarters of the high school population graduates, and the college graduation rate has quintupled since 2000.
Hopefully the employment/education mismatch situation changes in China. The government needs to develop a lasting solution to the problem in order to ensure that the great talent among Chinese students does not go to waste.
Source: http://www.nytimes.com/2013/11/06/business/international/chinas-leaders-confront-economic-fissures.html?adxnnl=1&ref=china&adxnnlx=1383757409-wZJmsKXdRZsYGXeztGbgqQ