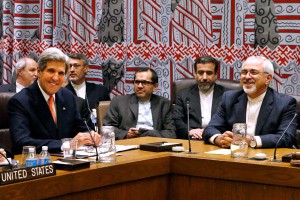 In Lausanne, Switzerland, on April 2nd, the United States, Britain, France, Germany, Russia and China, six world powers and Iran reached the basic framework nuclear deal that limits Iran's usage of enriched uranium for 10 years. Iran and other six world powers seem to resolve details by June 30 and produce final deal by end of this year.
China's Foreign Minister Wang Yi said that the framework nuclear deal reached by Iran and world powers will bring positive energy to Sino-U.S. relations.
Although the United States and China have not been quite agreeable to each other over economic and security issues, now they are jointly putting an effort on helping resolve North Korea's nuclear issue. North Korea's nuclear weapons issue has remained at the top of the bilateral agenda to Sino-U.S. relations.
Unlike Iran, since North Korea has different disposition over nuclear weapon issues, lots of other countries have different prospects for resolving North Korea's Nuclear weapon problem.
http://www.koreaherald.com/view.php?ud=20150404000065