In 2010, China smartphone companies such as Huawei,Lenovo,Coolpad, Huawei, Xiaomi and ZTE only accounted for 8 percent of the global smartphone market. Last year, however, they accounted for more than 20 percent according to global research firm Strategy Analytics. China is gradually transforming its past market that used to produce cheap products into premium mobile market. Their success in mobile market is partly due to the slow growth in advanced countries and the rise of China's purchasing power. With their rapid growth, Chinese smartphone companies became a huge threat to Korean companies such as Samsung and LG.
Although Samsung maintained the top spot with a 20 percent market share in the world's second-largest economy last year, Huawei and Lenovo, in particular, have shown outstanding performance in the Chinese market.They have made profits in their domestic market, huge investments in research and development over the past three years.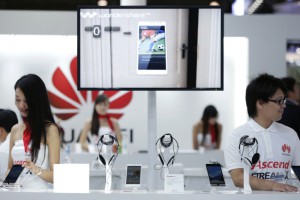 Huawei, the world's third-largest smartphone maker, following Samsung Electronics and Apple, is looking to boost sales of its premium handsets by spending over 10 percent of its revenue on R&D, and investing $300 million in global marketing this year.
Lenovo, which has so far focused on rolling out low-end handsets, is also seeking to introduce high-end mobile phones. Lenovo acquired Motorola's Mobility unit in January and has about 5000 patents that can be used for mobile technology development.
China's LTE smartphone shipments are expected to reach 360 million units by 2018, accounting for 80 percent of handsets in the market, according to Strategy Analytics.
By Shin Ji-hye (shinjh@heraldcorp.com)