Since the outbreak of Ebola in West Africa, China has spent approximately $120 million in assistance and resources in thirteen disease stricken countries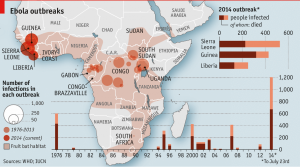 . The World Health Organization has documented around eight hundred medical workers from China aiding in the epidemic. The vice-minister of the National Health and Family Planning Commission, Cui Li, announced that China will continue to send resources and medical workers to aid in the outbreak.
Cui stated, in response to questing China's interest in Ebola, "To contain the epidemic where it started is in the best public health interests of people in the rest of the world, including the Chinese." Cui declared that the Chinese will continue the outflow of resources for at least six more months. This is the biggest aid program that China has put into action. According to documents, at least ten thousand of the medicals staff combatting Ebola in West Africa have been trained by the Chinese.
The Chinese Premier, Li Keqiang, promised the WHO that China has an obligation to dedicate their resources to aid the infected countries as a leading nation. Keqiang said, "China will also help African countries to develop their health systems so that they can adapt to the post-Ebola era." A WHO worker, Margaret Chan, described China's role in the aid against the epidemic as "exemplary." China is setting an example for other countries with their immense response teams and aid.
Source: http://usa.chinadaily.com.cn/china/2015-04/06/content_20007083.htm