China has a series of "trunk roads" that run all across the mainland connecting high populated cities to one another.  Citizens oftentimes refer to these roads as highways, however they are not necessarily freeways due to their traffic control measures.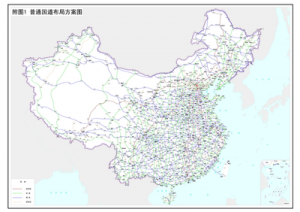 There is an accepted speed limit on the highways of 100km/h, but rarely do drivers heed these limits as there is a lack of speed detection cameras and police officers enforcing the speed are few and far between.
The highways are named using a descriptive numbering system.  Each highway name begins with the letter G and is followed by three numbers.  The original 12 highway routes (5 vertical and 7 horizontal) are labelled using a 000 series.  Highways in the 100 series all begin in Beijing and spread throughout the country in all directions.  Highways in the 200 series travel from north to south, and 300 series highways from east to west. Finally, 500 series highways are roads that connect larger, national highways.
The rapid growth in highway construction across China has been noted as one of the key factors in accelerating infrastructure construction.  In 2004, China's highway length ranked second in the world with 1.871 million kilometers of highways open to traffic.  More recently, in 2013 China's Ministry of Transport announced the "National Highway Network Planning" program which will result in 119 total highways by the year 2030.  It will be interesting to observe the effect the Ministry's new program will have on infrastructure development across the country.