*Hangzhou is my hometown but not many people in the U.S. have heard about it so I decided to write a third blog on it.
Hangzhou, the capital and largest city of Zhejiang Province in Easter China, is famous for its West Lake and other surrounding attractions. The permanent population was 8.9 million at the end of 2014. The city proper accounts for 4,876 square kilometers and the municipality is spread over to 16,596 square kilometers. It was also the capital of Song dynasty in 1132. The economy has been booming since 1992 when the main industries were light, agriculture, and textiles. Hangzhou has rich land, subtropical climate, lakes and mountains so it is renowned as the "Land of Fish and Rice", "Tea Capital" and "Home of Silk." Now e-commerce plays a vital role in Hangzhou as it is the birthplace of Alibaba, the largest e-commerce company in China. Jack Ma, a native of Hangzhou, became the richest person in the world at one point in 2015.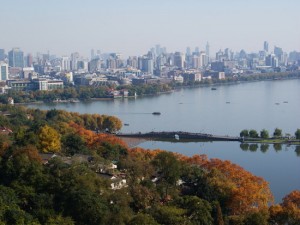 There are several economic and technological development zone divided in Hangzhou. My family is from Xiaoshan development zone, where there is a strong export-oriented model based on machinery, textile and garment industries. The village my mom comes from is famous for its textile industries. Some of my mom's friends have textile companies. However, because of the chemicals released in textile production, Xiaoshan is also severely polluted. When we go back to the village to visit my grandparents, I can tell the air smells different. For a long time, Hangzhou was considered as "second-tier city" in China. However, as my comment to Ruili's post mentioned, it is now "new first-tier city" because of its strong economic potentials. This year G20 summit, a premier forum for international economic cooperation, is happening in Hangzhou this September.
http://www.g20.org/English/aboutg20/AboutG20/201511/t20151127_1609.html
http://www.forbes.com/sites/chloesorvino/2015/03/02/the-worlds-richest-tech-billionaires-jack-ma-breaks-through-to-top-google-leaders-slip/#3ebb8a0c7c97
http://www.china-briefing.com/news/2014/01/02/china-regional-focus-hangzhou-zhejiang-province.html