Data released in the first week of January indicate that Chinese investments in global real estate continued to grow rapidly in 2016, hitting a record $33 billion. The United States is the most popular venue for Chinese investment, followed by Hong Kong, Malaysia, and Australia. As the Chinese upper class continues to expand, global real estate has gained prominence over other forms of investment because it is easily managed and even easier to understand. The majority of investment in foreign real estate comes through insurance companies, conglomerates, and property developers.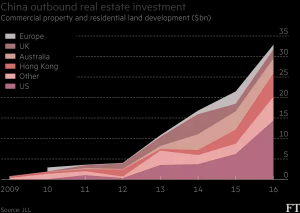 Klaus E. Meyer, of Forbes, identifies three major factors which may be motivating Chinese investment in foreign real estate. Firstly, investors may simply be seeking assets which are expected to yield a good return, as real estate in metropolises like London and New York typically do. Secondly, as Chinese companies begin to go global, they might look for new real estate development opportunities by building commercial and residential buildings across the globe. Lastly, investing in foreign markets provides an opportunity for Chinese businesses to diversify their assets, especially amid growing concerns about the slowdown of the domestic economy.

As we discussed in class, however, the Chinese government is growing concerned about the ever-increasing rate of capital outflows. A domestic economic slump has resulted in further concerns about the government's ability to keep exchange rates stable, as Chinese foreign currency reserves fell to a six-year low of $3.052 trillion in November. On Jan. 2nd, 2017, the Chinese government announced that banks would have to submit reports on overseas cash transactions of more than 50,000 yuan (around $7,000), down from 200.000 yuan prior to new regulations. In addition, banks will have to report any overseas transfers by individuals of more than $10,000. Rueters reports that Chinese citizens were restricted from purchasing "overseas property, securities, life insurance or other investment-style insurance products." While it is unclear to what effect new regulations will have on corporate overseas investments, they will certainly restrict the ability of individual investors to engage in foreign real estate markets. It may be that the glory days of Chinese investment in foreign real estate as we know them are be over.
Sources Consulted
https://www.ft.com/content/d8d80b6e-e381-11e6-8405-9e5580d6e5fb
http://www.reuters.com/article/us-china-yuan-idUSKBN14M032
http://fortune.com/2016/08/18/china-overseas-property-investment/
http://www.forbes.com/sites/ceibs/2016/05/05/whats-behind-chinas-worldwide-real-estate-shopping-spree/#d409cd1ce29d