In December 2015 the Chinese promised a $60 billion aid package to boost infrastructure and economic development in a wide range of African nations. While Chinese investment in the region is not new, the price tag certainly is. In 2008, the Chinese sent only $7 billion, ramping it up to $30 billion in 2013. This increase is even more significant is more astounding given uncertain economic times in China due to a well-covered slow down. While China sends foreign aid to South East Asia and the Middle East, those figures dwarf its recent African investment. While China makes no direct efforts to conceal exactly what this money is going to, it also isn't forthright with its intentions through some central plan, data tracking, or grand presentation on its goals. That can only leave those of us in the Western world to hypothesize.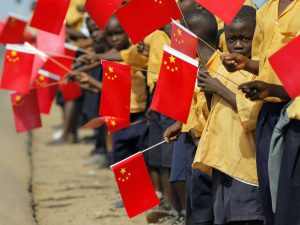 So, what is driving China's decision to inject this much capital into diverse areas of the continent. Some would be quick to say humanitarian aid. While China's targets have been economic stimulation and not specific aid initiatives like food for areas facing famine or aid in the recent ebola outbreak, even a socialist state would admit a rising tide lifts all boats. China is potentially trying its hand at creating a little capitalist growth by investing in individual firms to lift entire areas. This could be purely a selfless exercise on the part of the Chinese government, however experts are cynical.
Then there is the other extreme believing China is attempting to buy influence in the region. 63% of African nations approve of Chinese influence in the region. Most of the African nations targeted specifically by investment initiatives prefer the Chinese economic model to the American. There are dozens of conspiracy websites laying out why specifically China would be amassing influence in Africa, however no matter the reason, the investment has certainly upped its esteem in the region. Maybe China is planning to amass allies for political and economic gain in the future in the case of a trade war or other economic tension that could arise between China and the West.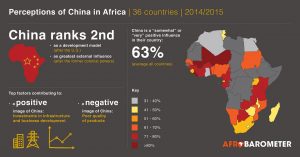 The theory with the most traction is a somewhat middle ground between the completely altruistic view and the influence buying view, believing that China is targeting its investments to produce a reliable source of cheap resources.  While some would call buying coal mining operations and access to oil and gas a form of modern colonialism, firm level investments have aided both Chinese investors and African business owners. Africa also hosts many rare resources such as metals used as semi-conductors in technological manufacturing carried out largely in China. As the Chinese learned through their own rural development initiatives, cheap resources and products are nothing without the infrastructure to move them from point A to point B. African infrastructure let's China transport the resource it acquires more efficiently. By investing in ways to make raw materials cheaper, China helps cut some of the costs of manufacturing, which have been rising as of late.
While the Chinese are not necessarily open with their intentions in Africa, this will be important to watch in the next few years, particularly as China continues to develop into a service oriented economy and away from sole reliance on manufacturing.
Sources:
http://knowledge.wharton.upenn.edu/article/chinas-investments-in-africa-whats-the-real-story/
https://www.brookings.edu/wp-content/uploads/2016/06/Why-is-China-investing-in-Africa.pdf
http://www.cnn.com/2016/11/03/africa/what-africans-really-think-of-china/