Through the semester we have come to realize that China can no longer sustain on low skilled jobs. The economy needs to begin to move into a more complex industry in order to continue growing maintain a competitive edge. While we may not see headlines in the United States yet, private companies in China may have already begun taking huge stakes in the internet.
Uber has long been the largest private internet company but man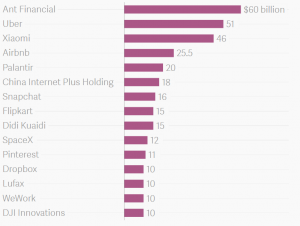 y Chinese companies aim to take Uber's place. Back in April 2016, people were valuing Ant Financial at around $60 Billion dollars, a Chinese financial assistance company, beating Uber by $9 billion dollars. Today, while Ant financial no longer has the same valuation as before, two Chinese companies follow Uber: didi chuxing (滴滴出行) at #33.8 billion and Xiaomi (小米科技) at $46 billion.
Didi Chuxing is a ride-sharing company exactly like Uber. Besides being created in China and User-Interface differences, the two apps operate the same way and yet Uber lost almost a billion dollars in 2015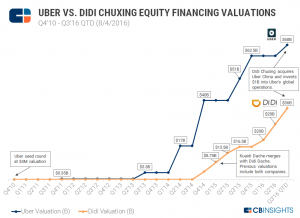 trying to compete with Didi Chuxing. Last year, after a long hard battle, Uber decided to be bought by Didi Chuxing particularly due to losses totaling to almost a billion dollars again. With such an acquisition, Didi Chuxing now looks to expand into the global market and perhaps one day overtake Uber in valuation. 
Xiaomi is the fourth largest phone manufacturing company behind Huawei, Samsung and Apple. Like Huawei, people do not recognize the brand Xiaomi very often in the United States but have constantly released their own line of processors and smartphones. Xiaomi's low-budget smartphones may have limited their global launch but they have begun starting in India. At an event in Dubai, they showed three new models ready for launch in India and North Africa.
So we must keep a close eye on these industries as they slowly begin entering the global market. Both Xiaomi and Didi Chuxing have yet to fully enter and achieve a worldwide presence thus it will be interesting to see how they plan to enter their respective saturated markets in the United states. Didi Chuxing could face the same fate as Uber if they expand to the States and Xiaomi may simply never make a dent in the smartphone market.
Sources:
https://www.cbinsights.com/research-unicorn-companies
https://qz.com/670303/alibabas-spinoff-financial-service-company-is-now-worth-as-much-as-uber/
https://www.wsj.com/articles/china-s-didi-chuxing-to-acquire-rival-uber-s-chinese-operations-1470024403
http://www.globaltimes.cn/content/1034391.shtml