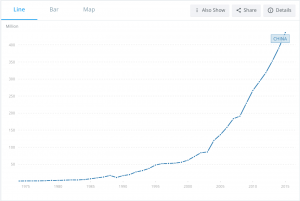 As the GDP growth in China begins to decrease, the Chinese air travel market is expanding rapidly. Chinese have increased their use of air travel by over 700% since 2000, and China is predicted to overtake the U.S. as the world's largest aviation market by 2033. Many of the aircraft manufactures are struggling to keep up with demand, as Chinese airlines begin to make up an increasingly larger proportion of the companies orders. Last year a quarter of the 500 737s Boeing manufactured went to Chinese airlines. Of the 44 aircraft Boeing delivered to customers in January 2017, 9 of those aircraft were Boeing 737s commissioned by Chinese Airlines or companies. To keep up with China's increasing demand for aircraft and reduce transportation and, potentially, labor costs Aircraft manufacturers have begun opening and constructing plants in China. In 2009, the France-based Aircraft manufacturer, Airbus, opened up an assembly plant in Tianjin for A320s, their most popular commercial aircraft, and construction is already underway for a second plant near the first to manufacture A330s with local parts and labor.
The American based aircraft manufacturer, Boeing, has been slow to open up shop in
China. Boeing essentially has a monopoly in the U.S. Commercial aircraft market and prides itself on being strictly U.S. based. This has some investors worried as Airbus may begin to overtake Boeing in the Chinese market.  However, in late 2015 Boeing signed a cooperation document with the Commercial Aircraft Corporation of China (Comac) to open a jointly owned completion center in China where unfinished 737s destine for China would be painted and have their cabins fitted. With President Trump's recent election and his general push for decreased outsourcing and increase domestic jobs, Boeing has taken some heat with concerns of American lost jobs. However, Boeing has assured the public that their decision to open up the completion center in China will not take away any U.S. jobs. In fact, Boeing claims that opening the completion center will create more U.S. jobs as U.S. assembly plants can allocate more of their resources towards increased production and assembly to meet the growing demand in China. Trump's recognition of Taiwan as an official country also stirs concern in Boeing as future trade relations with China could change due to this political statement. Trepidations also arise as investors propose the possibility of Comac stealing Boeing designs and technology. Comac is currently working on a design similar to the Boeing 737 and Airbus A320, hoping to rival the foreign duopoly.
It will be interesting to observe the competitive landscape within the Chinese air travel market as more assembly plants and completion centers open in China and Chinese aircraft manufactures begin production.
Sources: