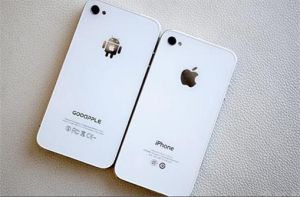 A popular meme inside the Beltway is that China is stealing us blind. In the background is the assumption that domestic technological capabilities are minimal, and that anything and everything incorporating technology or design must be stolen or counterfeit. In the automotive industry, this turns into the claim that companies are being "forced" to hand over technology. Never mind that 11 of the top 100 global universities is now Chinese – see Bloomberg that, based on English-language publication counts, Chinese researchers now outperform Americans in important subfields (mathematics, engineering). [In economic geography, the few publications I've found on the auto industry are in Chinese, not English, but are of high quality.]
Products such as cell phones are assembled goods, where a firm such as Apple makes nothing itself (even assembly is contracted to Foxconn, a Taiwanese company, not a Chinese one). Gorilla glass is made by Corning, at least until recently only in the US (it's a tricky process, and one production line turning out a sheet several feet wide turns out enough per day for a staggering number of phones). The sensors for cameras, the central processors, the radio circuitry, almost all of this is imported. Some is covered under patents, but 2-year-old components are bigger and/or more power-hungry than those used by an Apple or a Samsung. And the architecture is modular: you plug the pieces together, the interfaces are standardized, so by and large you can plug in old-generation components and have a functional phone. If you're making an Android device, the operating system is free, too, or nearly so. Now squeezing them all into a top-line phone is hard, and you're likely to have a year's exclusivity for any components developed to your specs. But Apple and Samsung don't buy the old stuff, yet the production setup can still churn out those parts. Samsung is happy to sell anyone and everyone the old-generation cell phone parts it makes on fully depreciated equipment.
Chinese entrepreneurs spotted this possibility and ran with it. Initially they turned out "shanzhai-ji" (guerrilla 山寨机) cell phones. The industry developed in Shenzhen 深圳市, a former mudhole of 80,000 peasants between Hong Kong and Guangzhou [Canton] that now has 13 million people and is one of the richest cities in the world. But it's where Foxconn, a Taiwanese factory, located their initial megafactory for assembling iPhones. [Shenzhen is now too expensive so Foxconn is moving their operations to the interior of China and to other countries. You can still see peasants, but they're in the distance, across a river in Hong Kong!]
They were innovative. In the era of local cell phone operators with different rate plans in different cities or provinces, the shanzhai makers created clunky phones with two SIM card slots. They made phones with a built-in buzzer for daily prayers, and a compass that would indicate the direction to Mecca. Apple was uninterested in turning out phones for niche markets. In Shenzhen, you could find programmers, electrical engineers and marketers. A 5-person company could develop a concept, find programmers and purchasing specialists, contract with a backyard assembler [or for big orders, Foxconn], locate a wholesaler willing to buy some, and be off and running. In the end Xiaomi and several other big manufacturers grew out of these customizers.
What is the iPhone market share in India, in China, in Southeast Asia? Minimal. Then there's Africa, where the largest, if not dominant player, is Shenzhen-based Transsion, whose only factory is in Ethiopia, not China.
Was there theft along the way? Well, you could find Samsang and Goople phones. But did this hurt Apple? Or did it enhance their brand?After all, how many Chinese could afford a $200+ phone 10 years ago (the original iPhone launched in 2007)? Having one was a mark of status, and if you had one, you didn't buy a phone case that would cover the logo – you wanted everyone to know you had the real thing. So did Apple lose sales, or gain free advertising?
Global value chains change the nature of intellectual property. Do you want to put together a modern car? Well, every global supplier (OK, every one that I've checked) has an engineering center in Shanghai. After all, China is the world's biggest market!! You need ABS (antilock brakes)? Fuel injectors? Backup cameras? GPS navigation? Voice recognition? The hardware to implement Apple Play? All are commodities, and the companies that make them can help you integrate them into your vehicle. So where's the theft? And again, in its early days Geely may have, er, borrowed liberally from the styling of foreign brands. Chinese consumers were under no illusion that they were buying the real thing. Meanwhile, GM and VW minted more money in China than in their home markets. Yes, they were required to use joint ventures, but did their bottom lines suffer? In 2017 China paid $30 billion in technology licensing fees, and untold billions more in mark-ups on imported components that VW and GM sourced from overseas. (What's the markup you pay if you damage a body panel and have to buy it from Toyota or Honda??)
So … is China guilty of theft? If so, did they help or harm US companies? (And remember: Apple is an Irish company, not an American one. Ireland paid $75 billion in license fees in 2016…)
What do global value chains mean for the ability of the US (or China) to capture the gains from exports? How much of an iPhone's $1,000+ price is represented by wages and profits earned inside China? the US? or anywhere else!!
Outside sources
Chen, Xiangming, and Taylor Lynch Ogan. "China's Emerging Silicon Valley: How and Why Has Shenzhen Become a Global Innovation Centre." European Financial Review (2017): 55.

Tang, Li, Michael Murphree, and Dan Breznitz. 2016. "Structured Uncertainty: A Pilot Study on Innovation in China's Mobile Phone Handset Industry." The Journal of Technology Transfer 41 (5): 1168–94. https://doi.org/10.1007/s10961-015-9432-9.