I've read a lot about urbanization and migration and most of the material is mainly focused on farmers not wanting to leave their land because it isn't fair and because they don't know how to do anything else but farm. But what about other attachments they might have to not wanting to leave their farm?
As more forced urbanization continues to happen, more people are refusing to leave their farms, holding out against the government plans to move them into the cities so that they can take their land to redevelop it for urban use. The government takes away their water, schooling, and other important things so that the farmers have to move; but still some hold out. This is mostly because of their ties that they have to their land: their culture, religion, ancestry, and love for their land.
Traditional Chinese religion is about the land, which makes it even more difficult to get people to leave their land. "It's not just the memories, but the gods who live there."
However, I think it does have a lot to do with the memories. People who live in the same place for generations would have a lot of family history and memories there. It's not easy to just leave those behind, only to be demolished and turned into something you don't recognize. I can see how it could be a scary thought for farmers who grow not just crops, but family memories in these places.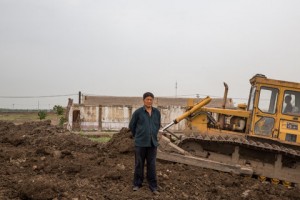 This is a picture of a man that still refuses to leave his land, even as the construction continues around his single home.