On Tuesday October 27th the USS Lassen sailed within 12 nautical miles of the Chinese artificially constructed Spratly Islands in the South China Sea, which provoked outrage from the admiral of China's navy who "urged Washington to "immediately correct its mistake" (theguardian.com).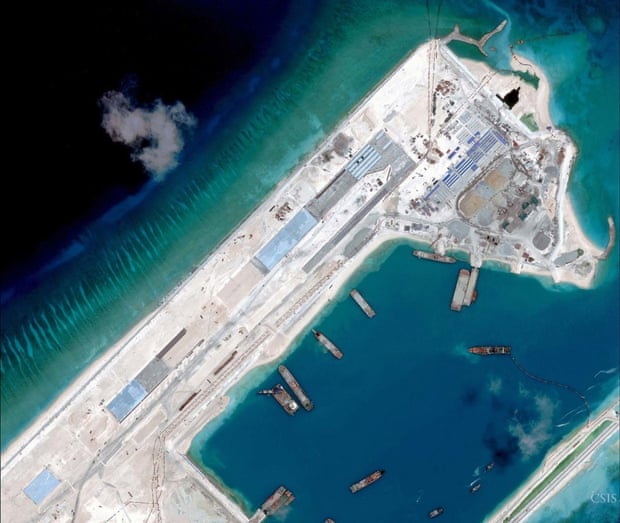 The Mischief and Subi reefs of the Spratly Islands have provoked significant controversy between China, Brunei, Malaysia, the Philippines, Taiwan, and Vietnam. The islands are an important economic area for the numerous countries, as the area surrounding them contain unexplored reserves of oil and natural gas, bountiful fishing areas, and serves as a prevalent commercial shipping channel. To help cement their claims to the area, China began dredging the sand along the reefs to create a permanent military installation on the reef islands, which originally were completely submerged underwater during the high tide.
The dredging and construction of the artificial islands in the Spratly regions has increased tension between Bejing and Washington. "There are billions of dollars of commerce that float through that region of the world," White House spokesman Josh Earnest told a news briefing. "Ensuring that free flow of commerce … is critical to the global
economy" (theguardian.com). Many pentagon officials continually lobby for the White House to approach the issues with a harder line, due to the importance of the region and the increasing possibility of conflict among countries in the region in response to China's efforts.
China remains adamant in their construction of these islands, noting that they will serve primarily for civilian purposes despite the reality that they are constructing airstrips for military fighter jets. The development in the Spratly Islands will continue to be a point of focus by the US government, and could be an area of the conflict if a reasonable solution is not reached in the region.